Architecture Biennale in Venice, Italy 2020     TIME SPACE EXISTENCE
III. Essentials + Evolutions / the future is what we mark.et
1. the ocean begins I. / lightinstallation. Dedicated to the city of Venice / before the great flood on 13.11.2019 2. the future is what we mark.et II. – 2019 / Installation                                                                                                  3. the ocean begins III. – 2019 / ground installation, scetch, written bronze board, glass plate or scarved in granit, embedded in the pavement, grass or field.                                                                                                                         4. the ocean begins IV. – 2012.19 / selected images from the project "WaterpaintsWater. 2012" Laserprint on acrylicglas, reworked, writings in progress, size  70 x 10o cm
II. the concept. Connected / "the future is what we mark.et / the ocean begins / Der Ozean beginnt" – 2019
At the end of July 2019 I received the invitation to the Architecture Biennale 2020 in Venice. End of September, as a consequence of my recently completed exhibition project "I am landscape" http://hundrich.de/architecture-biennale-in-venice-italy-2020/ , I worked out two drafts, provided them with my priority, and sent them to Venice. I preferred the light installation / the transformation of my text from March 2019:  "the ocean begins / El ozéano comienza bajo tus pies"
The Ocean begins under your feet / Pay attention, where + how  you go.
I dedicate this project to the city of Venice. Venice was built on more than 100 small islands in an Adriatic lagoon, "on water" and is in Europe today most directly affected by climate change, exploding tourism and the cruise industry.
the European Culture Centre writes on the 29.th of octobre 2019: "We congratulate you for the success of your summer exhibition: we looked at the photos from the link http://hundrich.de/i-am-landscape-2019/ and it seems a very interesting concept and idea which it would perfectly fit our Architecture exhibition.
The stile, the colours as well as the meaning behind are very original and uptodate and would perfectly embody the main topic of TIME SPACE EXISTENCE exhibition".
… " We would love to showcase your installations: both of them are original and the topic treated is very interesting as well as updated. Both of them would add great value to our exhibition, however, in our opinion the 1st project dedicated to the city of Venice would be more of an impact.
In addition, the space you selected would be the most suitable one being in a very prominent position and cheering the visitors entering Palazzo Mora: in this way the people getting inside the building will read your artwork and get a clear and strong message before starting their walk in our Palazzo!
…… Kindly note, we would really like to cooperate with you again and showcase your artwork, treating a sensible topic and being a very instagrammable installation: in these regards we would ask you if you already had in mind some hashtags linked to your artwork which can be used on socials.
We thank you in advance and we stay at your disposal for any further assistance."
The Venice Biennale of Architecture runs from 23 May to 29 November 2020 An e- catalogue and an exhibition catalogue in book format will be published. Estimated number of visitors: 300,000 The exhibition will be advertised immediately in the usual print, digital and social media.
My project meets the current situation of climate change, is an appeal to the responsibility of politics, architects, artists and people. A call for more attentiveness and respect towards nature, especially the water, the life-preserving and life-giving element.
Climate change does not differentiate people by skin colour, religion or ethnic origin, rich or poor. The climate change forces humanity to work together and requires contributions from every individual to make every life in this world worth living.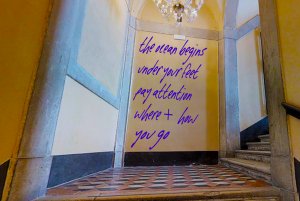 My contribution is my art. Currently, this light installation "The Ocean Begins" for the Architecture Biennale in Venice 2020 / Time Space Existence. The idea, the conception, the planning, the artistic realization and the installation in Venice, Palazzo Mora.
For the financial realization of this project I need one or more partners, co-producers.
Pampin, 10.11.2019 /  Herbert W.H. Hundrich
I. Intro Official Invitation letter / extract "For participation at the exhibition "TIME SPACE EXISTENCE" as organized and hosted by the European Cultural Centre in Venice, Italy at Palazzo Bembo, Palazzo Mora and Giardini della Marinaressa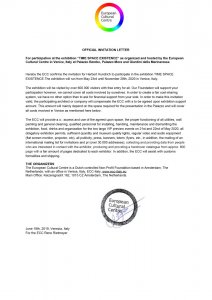 " In my view, this project illustrates the current situation of climate change, the responsibility of politics, architects, artists and people visiting this city and in their lives. At the same time, a bridging from this city to the current global situation of climate change, very easy to recognize the associated responsibility.
This is what this world is all about – responsibility for the future of this planet. Accordingly, I consider it extremely important that in this city of Venice and the Biennale for Architecture 2020, a clear signal is set which does justice to the global addition of this world. According to the theme: Time, Space + Existence"  Pampin, Oct. 2019
published, Pampin, 1. November 2019